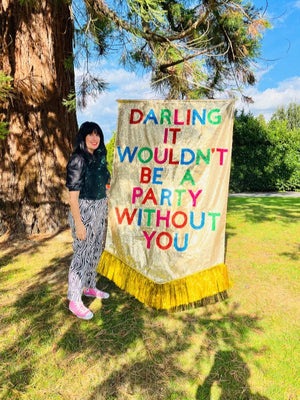 Supersize Customisable Banner 1m x 2m
This is our BIGGEST ever banner measuring a whopping 1m x 2 m. This piece will make a huge and very sparkly impact

This banner can be ordered as is OR you can change the wording to say your own message. ie a phrase or saying that is sentimental to you or your wedding date and Mr & Mrs/ Mr&Mr/Mrs & Mrs etc) the letters will be scaled accordingly to fit.
Golden dense sequins with multi coloured glitter writing and trimmed with gold tinsel  
The banner is backed with calico and hangs with a wooden dowel and metallic ribbon  
colours Can be changed  please email prior to ordering 
This is a handmade item so will have variations.
Keep away from fire, made in the UK