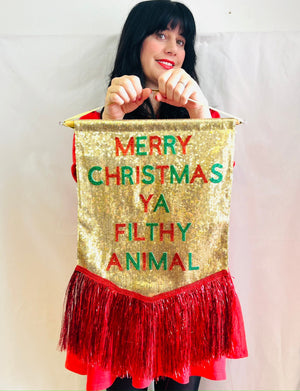 FILTHY ANIMAL BANNER
Welcome all the 'Filthy Animals' in for Christmastime with this small but mega sparkly banner. 
MEASURES APPROXIMATELY 29CM X 62CM (to the bottom of the tassels) 
Gold sequins, with multi coloured glitter alternate red & green writing.
Measurements 29cm x 64cm (to the bottom of the tinsel tassels) 
Please note this is a handmade item and may have variations.
Production time approx 3 weeks